Bloomin' Tons Floral Co.
---
Description
Flowers brighten anyone's day! Whether it's a "Just Because," "I Love You,""Congratulations," or "I'm Sorry!" flowers are always the perfect way to express the way you feel! NOT INTO FLOWERS? BLOOMIN' TON FLORAL COMPANY ALSO SPECIALIZES IN GOURMET GIFT BASKETS, FRUIT BASKETS and YES, EVEN JUNK FOOD BASKETS FOR THOSE WITH A SWEET TOOTH! Send sunny flowers from Bloomin' Ton's Floral Company to brighten their day and show your love and appreciation! Visit online at www.bloomintons.com or 2642 East 10th Street (near 10th and the bypass) or call 812-336-7201.
Follow on Facebook at facebook.com/BloominTonsFloralCo and click here to tweet with them.Check out their reviews on Yelp here and see their Thumbtack profile here.
---
Bloomin' Tons Floral Co. Items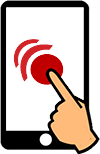 Bloomin' Tons Floral Co.
Bloomington, IN
Retail Value: $20.00
Your Price: $11.00
In Stock